Clover Bar Lodge Ground Breaking
Posted on Jul 24, 2018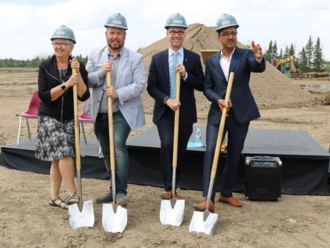 Ground was broken in a July 24 ceremony for the new Clover Bar Lodge seniors home, offering 144 units — an increase of 70 units from the previous facility.
The ground-breaking ceremony was attended by federal Natural Resources Minister Amarjeet Sohi; Coun. Brian Botterill; Sherwood Park MLA Annie Mcitrick; and Coun. Dave Anderson, who is also chairperson of the Heartland Housing Foundation.

"The government, when we started in 2015, we knew that we needed to build more long-term care spaces, more lodges, and more affordable housing," McKitrick said.
"This is one of the projects which the government is supporting throughout Alberta to make sure that our seniors have safe, affordable spaces to live.
Federal Natural Resources Minister Amarjeet Sohi, an Edmonton MP, joins with a senior for groundbreaking of the new Clover Bar Lodge, replacing the old facility while doubling residential unit capacity.Taylor Braat/News Staff
"The senior population is expanding and many of them need to find affordable housing, so this is something the government takes very seriously."

The new lodge facility is located at 4000 Sherwood Dr., replacing the existing Clover Bar Lodge built in 1963, with the build coming at a cost of $32.4 million as funded through the provincial and federal governments. The facility is owned by Heartland Housing.

The project's plan includes 2.2 hectares of land and allows for future expansion.
"It will increase the availability of affordable housing for seniors, and it allows them to live in dignity and to live in their own community close to their families, friends and their community," said Sohi.
"We want to make sure that people have enough disposable income left for other necessities. Their income should not be going towards housing. That is why our government is investing more than $40 billion for the National Housing Strategy to create affordable housing for all Canadians, including seniors, to take them out of poverty, give them dignity, and give them the respect they deserve.
Sohi added: "Seniors work hard all their lives, when they retire, they deserve the support from the community. That's exactly what the federal government is providing them."

The Government of Canada's National Housing Strategy encompasses a 10-year, $40-billion plan to "create 100,000 new housing units, make way for 530,000 families to find housing, and renew more than 300,000 housing units" in an effort to reduce homelessness by 50 per-cent.
Along with the federal mission to create housing solutions, the province launched its Provincial Affordable Housing Strategy last year, with $1.2 billion in investments.
Anderson said the replacement facility is a necessity, as the existing lodge on Fir Street is outdated and therefore has become restrictive to residents.
"Although it has been maintained, the rooms and hallways are narrow, the building systems are failing, and there are insufficient common spaces," he explained.
Anderson also noted the new lodge will offer "larger rooms to accommodate mobility aids, and common spaces that can accommodate functions for families and community groups."
Mcitrick agreed the current Clover Bar Lodge is outdated, adding that she commends all three levels of governments for working together to replace it.

"This is very much needed. If you ever go to see the existing Clover Bar Lodge, you'll realize that this was a project that was a long time coming, and it was not built under the previous government, and it's this government that is investing in projects like this one," she said. "This project demonstrates the way that the provincial government works in partnership with the federal government and the municipality. The fact that the federal government came to the table shows that there's a really strong idea of partnership between all levels of government. "There's a partnership between the county, the federal, and the provincial government."
Published originally in The Sherwood Park News on Friday, July 27, 2018.
tbraat@postmedia.com